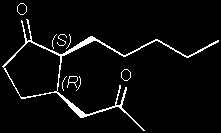 (+)-(2S,3R)-Magnolione® - floral, jasmine, fruity, fresh most intense

Odor Threshold = 0.29 ng

Ref: Andrea Quendolin Stang and Günter Helmchen, Enantioselective Syntheses and Fragrance Properties of the Four Stereoisomers of Magnolione® (Magnolia Ketone), Helvetica Chimica Acta, Volume 88, Issue 10, Date: October 2005, Pages: 2738-2746; See also - Alessio Porta, Giovanni Vidari, and Giuseppe Zanoni, A General Enantioselective Approach to Jasmonoid Fragrances: Synthesis of (+)-(1R,2S)-Methyl Dihydrojasmonate and (+)-(1R,2S)-Magnolione, J. Org. Chem.; 2005; 70(12) pp 4876 - 4878 who report an odor threshold value of 0.023ng/L in air.
(-)-(2R,3S)-Magnolione® - citrus, fruity, floral, fresh, green, jasmine very weak

Odor Threshold = 7.10 ng

Ref: Andrea Quendolin Stang and Günter Helmchen, Enantioselective Syntheses and Fragrance Properties of the Four Stereoisomers of Magnolione® (Magnolia Ketone), Helvetica Chimica Acta, Volume 88, Issue 10, Date: October 2005, Pages: 2738-2746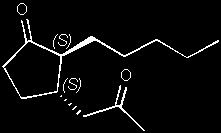 (2S,3S)-Magnolione® - mushrooms, food like, metallic, floral, jasmine weak

Odor Threshold = 0.60 ng

Ref: Andrea Quendolin Stang and Günter Helmchen, Enantioselective Syntheses and Fragrance Properties of the Four Stereoisomers of Magnolione® (Magnolia Ketone), Helvetica Chimica Acta, Volume 88, Issue 10, Date: October 2005, Pages: 2738-2746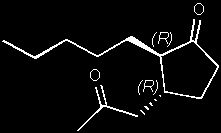 (2R,3R)-Magnolione® - floral, jasmine, animalic touch, metallic weak

Odor Threshold = 0.74 ng

Ref: Andrea Quendolin Stang and Günter Helmchen, Enantioselective Syntheses and Fragrance Properties of the Four Stereoisomers of Magnolione® (Magnolia Ketone), Helvetica Chimica Acta, Volume 88, Issue 10, Date: October 2005, Pages: 2738-2746