Leffingwell & Associates


Flavor & Fragrance Industry Leaders


Alchemist WebPick Awarded by the webzine of ChemWeb.com

1999 - 2002 Flavor & Fragrance Industry Leaders
1999 - 2002 Estimated Sales Volume in Millions
(Final - November 28, 2003)
| | | | | | | | | | | | | | | |
| --- | --- | --- | --- | --- | --- | --- | --- | --- | --- | --- | --- | --- | --- | --- |
| .. | Company | 1999 | 1999 | Est.1999 | 2000 | 2000 | Est. 2000 | 2001 | 2001 | Est. 2001 | 2002 | 2002 | Est. 2002 | ... |
| Rank | .. | Country Currency | =US $ | Market Share1 | Country Currency | =US $ | Market Share1 | Country Currency | =US $ | Market Share1 | Country Currency | =US $ | Market Share1 | Source |
| 1 | Givaudan | 2231 CHF | $1,401.4 | 10.9% | 2356 CHF | $1,462.8 | 11.3% | 2,399 CHF | $1,446.0 | 11.4% | 2,674 CHF | $1,932.8 | 12.8% | |
| 2 | IFF | $1,439.50 | $1,439.5 | 11.2% | $1396.9* | $1396.9* | 10.8% | $1,843.80 | $1,843.8 | 14.5% | 1,809.20 | $1,809.2 | 12.0% | |
| 3(3) | Firmenich | 1700 CHF | $1,067.9 | 8.3% | 1900 CHF | $1,179.7 | 9.1% | 1900 CHF | $1,145.2 | 9.0% | 1,900 CHF | $1,373.3 | 9.1% | |
| 4 | Symrise | NA | NA | NA | NA | NA | NA | NA | NA | NA | 1,240 € | $1,300.2 | 8.6% | |
| 5 | Quest International | 676 £ | $1,091.6 | 8.5% | 687 £ | $1,026.0 | 8.0% | 727 £ | $1,057.3 | 8.3% | 716 £ | $1,152.7 | 7.6% | |
| 6(4) | Takasago | 96634 ¥ | $946.1 | 7.3% | 101013 ¥ | $883.4 | 6.8% | 103699 ¥ | $791.6 | 6.2% | 100837 ¥ | $849.8 | 5.6% | |
| 7(6) | Sensient Flavors | $374 | $374.0 | 2.9% | $378*** | .$378*** | 2.9% | $383.7*** | ...$383.7*** | 3.0% | $423*** | $423*** | 2.8% | |
| 8(5) | T. Hasegawa | 42,633 ¥ | $417.4 | 3.2% | 42,779 ¥ | $374.1 | 2.9% | 42,483 ¥ | $324.3 | 2.6% | 45,196 ¥ | $380.9 | 2.5% | |
| 9 | Mane SA | 1413.4 FF | $217.0 | 1.7% | 1531.9 FF | $220.0 | 1.7% | ~1601 FF | ~$ 235 | 1.9% | 257 € | $269.5 | 1.8% | |
| 10 | Danisco | NA | NA | NA | NA | NA | NA | ~193 € | ~171.7 | 1.4% | ~251 € | ~$263.2 | 1.7% | |
| ... | Top Ten Totals | ... | $8,335 | 64.6% | ... | $8,256.7 | 64.0% | .. | $8,316.9 | 65.5% | | $9754.6 | 64.6% | .. |
| | All Others | | $4,565 | | | $4,643.3 | | | $4,383.1 | | | | | |
| | Total Market | | $12,900 | | | $12,900 | | | $12,700 | | | $15,100 | | |
| 11 | Degussa Flavors & Fruit Systems | NA | NA | NA | 229.1 € | $215.8 | 2.00% | 236 € | $210.0 | 1.7% | 223 € | $233.8 | 1.5% | |
| 12 | Robertet SA | 154 € | $155.1 | 1.2% | 178 € | $167.7 | 1.50% | 203 € | $180.6 | 1.4% | 207.50 € | $217.5 | 1.4% | |
| | Top 12 Totals | | NA | | | $8,640.2 | 67.0% | | $8,707.5 | 68.6% | | $10,205.9 | 67.6% | |
For 1999-2000, the Top Ten Totals include the sales of Bush Boake Allen (but not Mane SA or Danisco).

Note - It is quite possible (almost certain) that Kerry Ingredients should be included as one of the Top Ten for 2002 (particularly in view of numerous recent acquisitions). However, there is a lack of firm sales data information, as the company has not made these disclosures.

Acquired Companies Formerly in the Top Ten
| | | | | | | | | | | | | | | |
| --- | --- | --- | --- | --- | --- | --- | --- | --- | --- | --- | --- | --- | --- | --- |
| | H&R | 775 | $779.1 | 7.10% | 865 €. | $814.8 | 6.3% | ...872 € | $775.9 | 6.1% | See Symrise | NA | NA | Haarmann & Reimer |
| | Dragoco | 619.5 DM | $319.0 | 2.90% | 687.4 DM | $331.1 | 2.6% | 730 DM | $332.1 | 2.6% | See Symrise | NA | NA | Dragoco |
| ** | Bush Boake Allen | $499.00 | $499.0 | 4.50% | $471.6** | $471.6** | 3.7% | See IFF | NA | NA | See IFF | NA | NA | BBA & IFF |
Rank is based on US$ equivalents
(1) Estimated 1999 Total World Flavor & Fragrance Sales of US $12.9 Billion. Again in year 2000, we estimate that sales growth in local currencies was about 3-4%, but the continued strengthening of the U.S. dollar against major currencies once again leaves the estimated total market in U.S. dollars at about U.S 12.9 Billion. For 2001 we believe that growth in local currencies was about 2% or less and that in US $ equivalents the market shrank to about U.S $12.7 Billion based on the strength of the dollar. For 2002, we estimate that the total world market is $15.1 billion. This sizable increase reflects a decrease in the value of the U.S. dollar of about 17.8% vs. major currencies at 12/31/02 vs 12/31/01. In addition, as mentioned in our Final report for year 2001, we thought that our prior estimates of the total market could be as much as $2 Billion low. We have now examined the total market ( Approximately 525 companies) and have now revised our total market estimate upwards by about $1.8 Billion. These changes are reflected above and prior years are also adjusted accordingly.
It should be noted that Givaudan in 2001 estimates the total F&F market at "roughly" 15 billion CHF (U.S. $ 8.7 billion) while in a market study (April , 2001) ChemSynergy estimates the market for flavor and fragrance products is at present globally in the order of $12.24 billion. Also in a market study by The Freedonia Group, they estimated the world F&F market as $14.15 billion in 1999 with a projected growth to $18.4 billion by 2004. Get a copy of the Freedonia Press Release. Finally, Sensient Technologies estimates the global market at $16.2 billion (presumably including herbs & spices?).
(3) Accounting Period of July 1 to June 30
(4) Accounting Period of April 1 to March 31
(5)Accounting Period of Oct. 1 to Sept 30; Net sales given are Company consolidated sales, See T.Hasegawa Co., Ltd.
(6) Accounting Period of Sept. 1 to August 31 until year 2000. Information in Universal Foods 1999 Annual Report (available online) indicates UF Flavor sales for 1995 ($371 million), 1996 ($359 million), 1997 ($321 million), 1998 ($347 million), and 1999 ($374 million). In year 2000, Universal Foods changed is name to SENSIENT TECHNOLOGIES CORPORATION and the Flavor division is now known as Sensient Flavors. In addition, the accounting period was changed to January 1 - December 31 starting in year 2000 and in the "funny" way of making one look larger than they really are in F&F, Sensient's Flavor sales for 2000 now include "Dehydrated Products" (onion/garlic/chilies/dehydrated vegetables) which are not flavors or fragrances in the conventional sense. In our figures for Sensient, we have removed sales for the "Dehydrated Products".
Note - all foreign currency calculations for the table are based on December 31 rates for the year indicated
Note - for companies with accounting periods that overlap calendar years, sales are stated for the year in which the majority of sales periods occur. For example, if Takasago's year end is March 31, 2002 we treat that as year 2001 sales. Similarly, if Firmenich's year end is June 30, 2002 we report the year ending as 2001 sales. While not exact, we feel that this treatment still provides an accurate overall basis for comparison. Similarly, as noted, currency calculations are based on calendar year end rates for comparison consistency. If fiscal year end rates were employed the U.S. $ figures would be somewhat different, but totally confuse comparisons.
Note - Top Ten Total for market share does not add due to rounding for individual companies.
* IFF Sales comparisons for year 2000 do not include Bush Boake Allen. Consolidated Sales for the full year 2000 totaled $1,462,795,000 - IFF acquired Bush Boake Allen ("BBA") effective November 3, 2000, and the BBA operating results are included in the Company's consolidated results from that date.
** Bush Boake Allen year 2000 sales are estimated based on reported 9 month sales of $362. 5 million f or the nine months ending Sept. 25, 2000 and the sales difference reported by IFF for the 58 days after IFF's acquisition of BBA extrapolated for the full fourth quarter. If IFF and BBA's estimated sales for year 2000 were combined for the full year, we estimate the combined total would have been approximately $1868 million.
*** See Note (6). F&F figures in the table above for Sensient Flavors are estimates as we have removed reported sales of "Dehydrated products" (26% of reported F&F revenues) from their stated "Flavor & Fragrance Sales" of $511,124,000 for 2000 (and 27% of $525,673,000 2001sales) and 26% of reported F&F revenues of $572.2 million for 2002 in order to have a reasonable year to year comparison.
Lazlo Unger, an economist at Givaudan , estimated the world F&F market at US 4.0 billion in 1979, 4.2 billion in 1981 (Source: Perfumer & Flavorist, Vol. 7, August/September, 1982, p. 52) and 7.0 billion in 1987 (Source: Perfumer & Flavorist, Vol .14, May/June, 1989, p. 43). Hans Hartmann of H&R estimated the world F&F market at US $ 7.8 billion in 1990 and 9.6 billion in 1995 (Source: Perfumer & Flavorist, Vol .21, March/April, 1996, p. 22), and the flavor market (only) at 4.5 billion in 1994 (Source: Perfumer & Flavorist, Vol . 20, September/October, 1995, p. 35). Ron Fenn of IFF estimated the total F&F market in 1995 at about US $ 10 billion and projected a market of 12 billion in the year 2000 (Source: Perfumer & Flavorist, Vol .23, March/April, 1996, p. 11 ) in concurrence with (or based on) Hartmann's estimates.
For information, Unger also estimated 1987 world F&F sales by category as follows:
| | |
| --- | --- |
| Category | As Percent of Sales (1987) |
| Fragrance compounds | 33.6% |
| Flavor compounds | 32.8% |
| Aroma Chemicals | 17.9% |
| Essential Oils & Other Natural Products | 15.7% |
Sensient Technologies Flavors & Fragrances Group (Feb. 14, 2002) has reported 2002 sales rose by 8.8% to $572.2 million; however as about 26% of these sales are in dehydrated onion, garlic, chilies & vegetables, we estimate that "conventional" 2002 F&F sales were about $423 million (up about 10% from 2001). For a 10 year history of SENSIENT TECHNOLOGIES CORPORATION sales click HERE.
International Flavors & Fragrances - New York, N.Y., January 27, 2003 - reported fourth quarter and full year 2002 results in line with expectations. Fourth quarter 2002 sales totaled $424.3 million, an increase of 5% over comparable 2001 sales of $405.6 million excluding $13.6 million of sales attributable to non-core businesses disposed of by the Company. Sales for the full year 2002 totaled $1,809.2 million, increasing 2% over comparable 2001 sales of $1,774.5 million excluding $69.3 million of sales attributable to non-core businesses disposed of by the Company. Sales for the full year 2001 as reported were $1,843.8 million. - For a 10 year history of IFF sales click HERE.
Firmenich - For the year ending June 30, 2003, Firmenich reported sales of CHF 1.9 billion, which represents an increase in local currencies of 9.5% over 2002. The strength of the Swiss franc against most of the world's currencies affected reported growth, and brought results to + 0.3% in CHF over the prior year. Notably, the flavor division had sales growth in local currencies four times faster than the market, while the Perfumery Division posted a double-digit sales increase in local currencies in a market that is basically flat. Chemicals reported high single-digit sales growth in local currencies.
Symrise - In 2002, the combined companies (of the 2002 merger of Dragoco and Haarmann & Reimer) generated sales of € 1.24 billion. This represents a 3.2-percent rise in sales year on year in local currencies. Expressed in the reporting currency (euros), sales were up moderately from the previous year. This sales growth was generated, in particular, in the flavor segment, where sales rose by 6.2 percent, as well as by the regions of Europe (+ 6.1 percent) and South America (+ 7.5 percent). The fragrances and aroma chemicals/cosmetics segments also posted higher sales growth year on year. Symrise employs a total of some 5,800 people worldwide, including 2,800 in Germany.
Givaudan - Geneva, Switzerland – 5 March 2003 – In 2002 Givaudan recorded sales of CHF 2.7 billion, resulting in an increase of 18.2% in local currencies and 11.4% in Swiss Francs compared to 2001. These figures include sales of the acquired FIS, Nestlé's flavour business, as from May 2002. On a comparable pro forma basis – as if the FIS acquisition had occurred on 1 January 2001 - Givaudan maintained its healthy growth with a 6.1% sales increase in local currencies, clearly outgrowing the market.
Quest International 2002 Sales - were £ 716 million, down 1.5% from 2001.
T. Hasegawa Co., Ltd - has reported 2002 consolidated net sales of 45196MM ¥, an increase of 6.4% over 2001 with net income of 3229MM ¥, up 21.5%.
Takasago - For a 10 year history of Takasago sales click HERE.
Mane - 2002 sales were 257 € (million) (personal communication)
Degussa Flavors & Fruit Systems, March 4, 2003 - Business trends were sluggish after an extremely good performance in previous years. Sales were down 6 percent year-on-year at €223 million and EBIT declined substantially. Fruit Systems in particular suffered the effects of price pressure and a clear drop in demand. The weaker dollar also reduced sales and earnings as the USA accounts for about 75 percent of business.
Disclaimer: The figures reported are derived from reliable published sources and represent our best estimates. We disclaim any material interest in any of the companies for which information is provided. Statements presented here which are not historical facts or information must be considered "forward-looking statements" within the meaning of the Private Securities Litigation Reform Act of 1995, and are subject to risks and uncertainties that could cause a company's actual results to differ materially from those expressed or implied by such forward-looking statements. Risks and uncertainties with respect to a company's business include general economic and business conditions, the price and availability of raw materials, and political and economic uncertainties, including the fluctuation or devaluation of currencies in countries in which a company does business. Investors should not accept any information presented here as fact without independent verification. If errors are found in our market analysis, we would gratefully accept factual corrections.
This information is provided gratis as a service to those in the Flavor & Fragrance industry.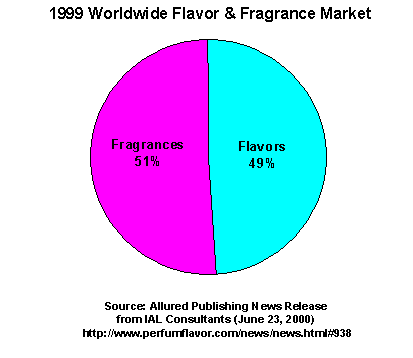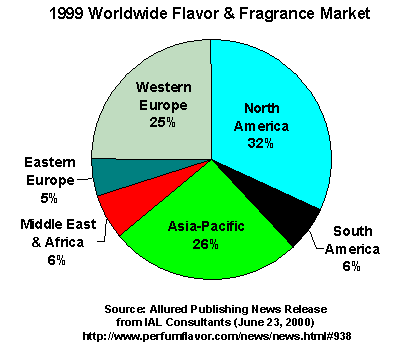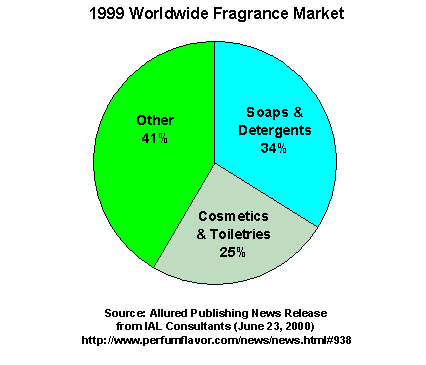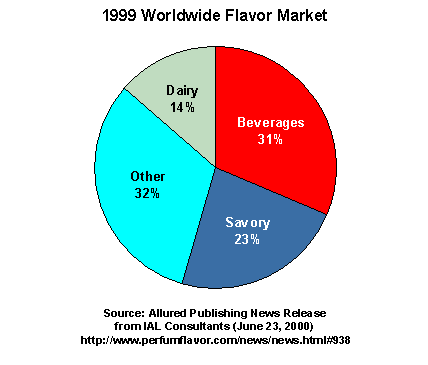 Email:
leffingwell@mindspring.com
Copyright © 2000-2001 by Leffingwell & Associates
General Notice: Leffingwell & Associates strives to ensure that the information contained in this Web site is accurate and reliable. However, Leffingwell & Associates and the Web Master are not infallible, and errors may sometimes occur. Therefore, Leffingwell & Associates disclaims any warranty of any kind, whether express or implied, as to any matter whatsoever relating to this Web site, including without limitation the merchantability or fitness for any particular purpose. Leffingwell & Associates will from time to time revise the information, services and the resources contained in this Web site and reserves the right to make such changes without any obligation to notify past, current or prospective visitors. In no event shall Leffingwell & Associates be liable for any direct, indirect, special, incidental, or consequential damages arising out of any use of the information contained herein.
Other Subjects on the Leffingwell & Associates Site

Since November 28, 1999